This Week at Harris Chapel
HARRIS CHAPEL'S ANNUAL OLD FASHION DAY 2023

Harris Chapel Old Fashion Day 2023
With music by The Churchmen
October 1, 10:15 AM
Free pork burger picnic lunch provided.
Hay wagon rides & games.
Bring your old cars & tractors.
The kids can enjoy our playground.
HARRIS CHAPEL ONE DAY WOMEN'S RETREAT

CALLING MEN TO PRAY

ADULT DAY TRIP TO THE ARK ENCOUNTER

Make plans now to attend a one day chartered bus adult only day trip to the Ark Encounter. The bus will leave Harris Chapel at 7:30 am on November 9. The cost is $95 for adults 18 -59 years of age; $88 for those 60 and over. This price does not include food or souvenir money so please plan accordingly. Beginning next Sunday and the money will be due October 1. Please see the attached flyer for more information. If y-ou have further questions you may contact Chris Reynolds (765-748-9780)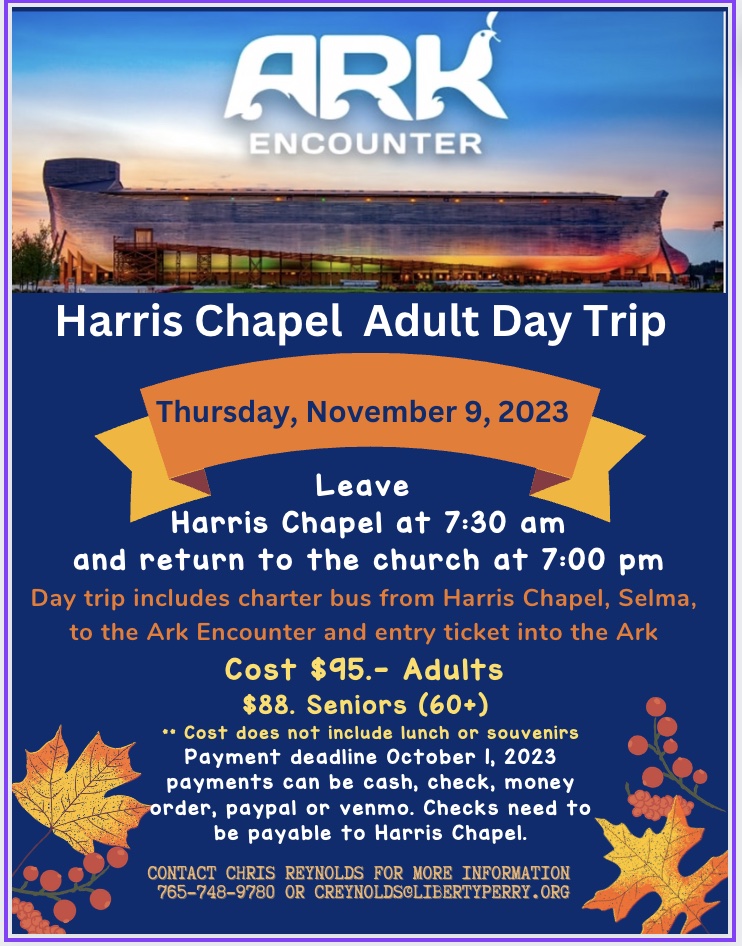 LIFE 2.0

LIFE 2.0
All youth are invited to join us for Life 2.0 in the fellowship hall every SUNDAY night from 6:30-8 PM.  Bring your friends and your Bibles for Worship, games, and Bible study.
MEN'S BREAKFAST ON WEDNESDAYS

We would love to have YOU join the Harris Chapel men gather every Wednesday morning, 7am, at A Taste of Cajun formerly known as GiGi's Family Restaurant on Walnut Street in Muncie.
FOOD PANTRY

It is our privilege to support the Stoney Creek Volunteer Fire Department Food Pantry. We have collection tubs in both buildings for your donated items. We will make sure all items donated get delivered to the pantry. You may also support the pantry by donating money either through the regular offering, PayPal, or Venmo. Please mark all giving "Food Pantry". Thank you for helping the needy of our community through this outreach ministry. 
Food pantry suggested donations (24 of each item)
Peanut Butter, Jelly, Pancake Mix, Syrup, Breakfast Cereals.